Migration
How racial profiling works in Germany
Our fellow Sandhya Kambhampati reported on her experience with racial profiling during her time in Germany. Since then, she received 700 messages.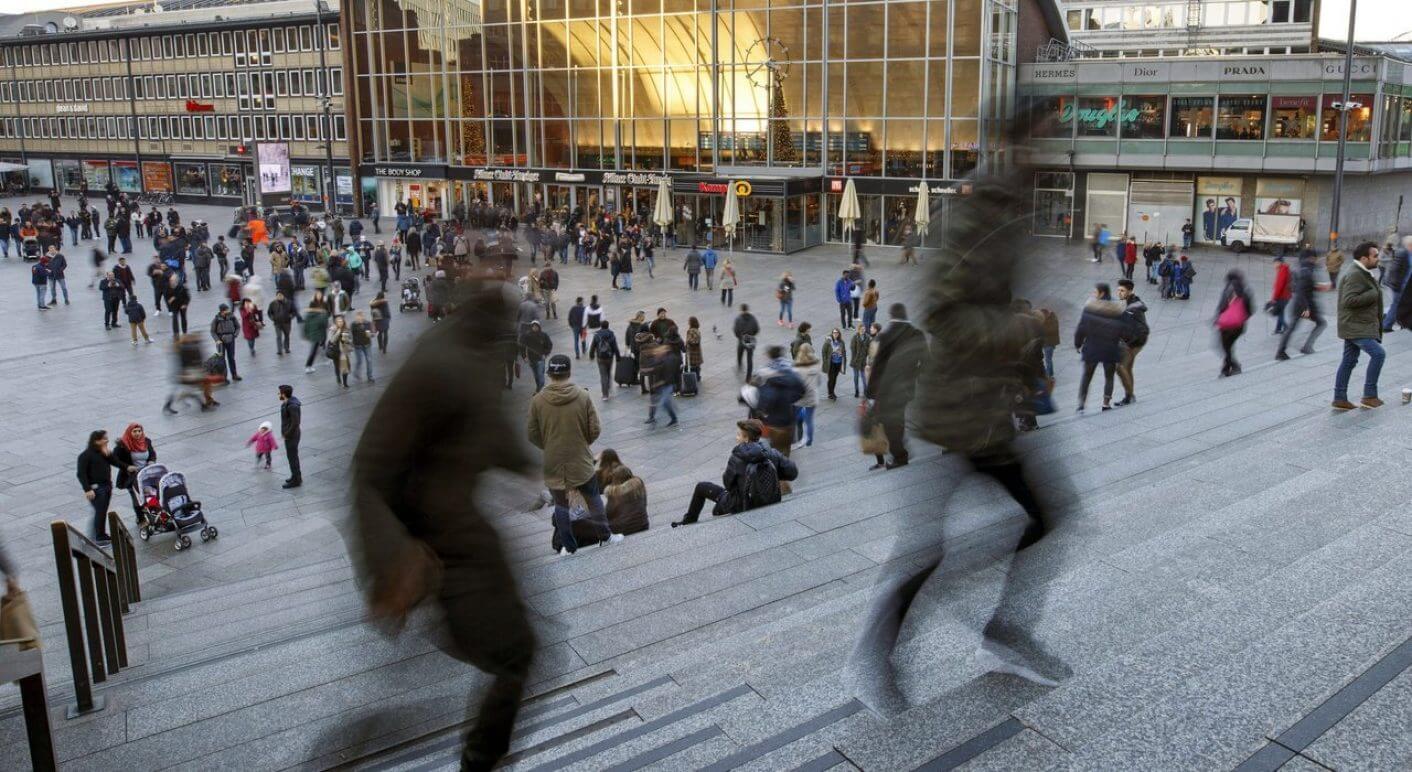 A few weeks ago, I wrote about my experience getting racially profiled in Germany and asked people to share their stories of racial profiling. I've been profiled 23 times since I've been in Germany, mostly while walking, running or going to the park. As a journalist, it's pushed me to understand how big this issue of racial profiling is in Germany and reach out to authorities. 
The response is overwhelming. I've heard back from approximately 700 people. I've received hundreds of survey responses, emails, Twitter and Facebook messages about this topic. 
Because there is no comprehensive dataset on this issue, this research and survey sheds light on some of the experiences of people getting profiled around Germany at some point in their life – either traveling or living here. Some of the notes I received were similar to the profiling which happened in Cologne over New Year's Eve, while others were profiled while doing everyday activities, such as walking in the park or on the train. 
People reached out with their personal stories and stories of friends and family who've experienced some kind of profiling. Others wanted to do something about the issue and asked for resources and ways they could help to stop this issue from spreading. Some contacted me through Twitter and Facebook and connected me to other friends or colleagues who have experienced profiling. 
300 messages of hate
I received over 700 responses in all different forms. More than 400 shared their stories. The other 300 responses were people who sent messages of hate. These people were pointing fingers at me saying the research was false and the police rightfully should be after me and other "illegals". I received threats saying the "Nazis would be after me", that "I should go back to my country", that I should keep my doors locked because I might get attacked and people questioning if I really knew what my nationality was. One person wrote, "I wouldn't have thought you were an American. Quite frankly, you look more Asian or African." These remarks only fueled my reporting and research.
People responded from Hamburg, Mainz, Freiburg, Cologne, Berlin, Karlsruhe and Munich, among others. People said they got stopped on trains, train stations, parks, near the borders and on the street. They said they were asked by police if they have drugs on them or have ever been in trouble with the authorities. They were asked to show proof of their id and residency in Germany. Sixty percent of the people who reached out through the survey said they had been stopped at least one time. Of these, 12 percent said they get stopped once a week. 
Many of the people who reached out were happy that they weren't alone in this and wanted to share their story. The stories people shared were personal and many asked to remain anonymous for the fear of their safety. For this reason and because of the threats and hate mail I received, I've only included their first names. 
Deeply embedded attitudes
A man from Hamburg, Dennis, wrote to me. He's born and raised in Germany and his wife, is from Brazil and is black. They are currently expecting their first child in a few months. He told me about his fears for his child, asking, "how often will this child have to answer stupid questions, be racially profiled or experience people acting differently because of the color of its skin?" He hopes people will be careful about not feeding into stereotypes. 
"How can we seriously claim to be an open and liberal democracy if we consistently exclude people that are born here with a multiethnic background?" Dennis asked. "It happens way too often that black Germans are still confronted with stupid phrases like: 'Wow, your German is great' or 'But seriously, where are you REALLY coming from'. I think that it is this kind of thinking that gives the foundation for racial profiling as these attitudes are deeply embedded in the everyday narratives of our society." 
Similarly, I heard from a woman, Caroline who has five children, two of whom are from Sri Lanka. Caroline explained that her daughter would often get asked in the grocery store if she was stealing things from the store and would get stopped at train stations and restaurants. As a mother, she feels helpless and angry she can't do much to prevent this from happening. 
Pulled out of line
Another woman, who is Asian and is from Australia, wrote she was stopped on the Polish/German border when she was on her way home from a trip. The police officers stopped her and two black men behind her in a train which was full of people – all of which were white – and checked their id's. The officers did not however, check her husband's, who is white. Since this experience, she has left Berlin and mentioned that racism was one of the determining factors for her move. 
Unterstützen Sie unabhängigen Journalismus!
Wir recherchieren, welche Missstände es in Gerichten, Gefängnissen, in Polizeistationen und Justizbehörden gibt. Diese Recherchen finanzieren wir vor allem durch Stiftungsgelder und die Unterstützung von Bürgerinnen und Bürgern. Jetzt spenden!
There's also been some who wrote they were targeted in the airport. Dharmesh who is from India, but lives in Berlin said he travels quite regularly throughout Germany for his job. He takes flights normally from Berlin to Frankfurt, Stuttgart, Munich usually. In the last four months, he's been pulled out of the security line every time for explosive detection at each airport. He's been stopped 3 to 4 times per week for this and he says it's clear that he is being singled out as white people usually do not get checked during these times. He jokingly wrote he has now started bets with his colleagues that he'll get stopped, while they won't.
These stories are just a sample of the hundreds of responses I got. Many of them felt that in some cases, controls might be necessary, but this should not be on a skin-color basis, but rather because of some substantial evidence. They also said the controls make them feel different, unwanted and make them question authority.
Not a problem
Some people who reached out shared stories from their childhood and of their experiences of racism, but not necessarily profiling.  For example, a man from Frankfurt, who has a mother from India and a father who is born in Germany, recalled his childhood experience and "experiences that make [him] aware that he's considered different". Growing up, he recalled his teachers in kindergarten telling them that the "beige-colored markers were 'hautfarben'- 'skin-colored', literally, and thinking 'well that's dumb, my skin's not that color.'" A few others noted similar experiences, noting that these experiences are all things that contribute to a feeling that a German person can only be seen as a white blond-haired person. 
One man, Fabian, wrote to me expressing concern not about his own profiling or his own stories, but rather, he focused on the authorities and what they are doing about racial profiling. He wrote, "What is the worst is that after the recent events, even the German political elite, all the way up to the federal ministers, doesn't seem to have a problem with it." 
Several NGOs and other organizations who I spoke to such as the UN, Initiative Schwarze Menschen in Deutschland, and Amnesty International have recommended Germany deal with racism and have an investigations into the practices of the police force. They all spoke of the widespread issues of racism among the police and how police target people of "migrant backgrounds."
Looking forward
There has been several court cases on the legitimacy of ID checks based on skin color. And more and more of these cases are ruling in favor of the victims. Recently, the administrative court in Rhineland-Palatinate (the second highest administrative court in Germany) achieved success as they declared a police control illegal. I spoke with Sven Adam, one of the leading lawyers on these cases, who said there are currently about 10 different court cases taking place in various administrative courts. Adam said the federal police often try to defend themselves in cases by saying they had to check a certain person because they looked out of the window a certain way or walked too quickly out of the train station. So they try to pretend these are the reasons for the checks. But in court, these often turn out to be lies or claims that cannot be proven, he said. 
I also emailed the police in all sixteen states to enquire about their rules and regulations for stopping people. All but one state, Mecklenburg-Western Pomerania, responded. I asked them all if they do racial profiling, if they collect any data on the people they stop, and if they have any trainings on when and when not to stop people for identification. Their responses were similar: they don't do racial profiling because it's illegal. In their trainings they go over that profiling and labeling is illegal. 
Many police departments also said they recruit and have a certain percentage of their police force of migrant backgrounds which allow them to have different experiences to draw from. Many offices also have intercultural competency officers and diversity officers who inform the police force how to properly deal with these issues. In Bremen, the police department has a conference specifically on ethnic profiling and is working with organizations who support migrants to proactively deal with this issue. If the police is going to stop anyone, it's because they have a reason to do so. In other words: the person may look similar to a person who is wanted. 
All of the police departments also have procedures in place so people can submit a complaint if they feel like they are unrightfully questioned. When I asked further about the number of complaints, this information was not disclosed. 
Thomas Neuendorf, spokesperson for the Berlin police said if suspicion-based checks take place and if the suspicion is not confirmed, the check is not recorded. They only record these statistics to show that they are making the efforts to stop people – otherwise, he says, the population asks why the police is not doing anything. 
This issue is also being discussed on an EU level. In 2014, the European Commission against Racism and Intolerance (ECRI) recommended to the German authorities to ban racial profiling and update their Action Plan against Racism and Intolerance, which has not been updated since 2008.
If my research on this topic over the last few months has shown me one thing, it's that Germany's police force needs to acknowledge this as an issue. And begin some sort of data collection to really understand how widespread this issue is. Until they acknowledge that profiling actually happens, it will be tough for the police to really pinpoint how many people are impacted by this. People who feel that they have experienced racial profiling should reach out to organizations such as Amnesty International and Initiative Schwarze Menschen in Deutschland, who are actively working to defend the rights of people of color in Germany.