CORRECTIV – Investigations in the public interest
The stream of false and manipulative claims about Covid-19 hasn't decreased for weeks. Various participants are spreading false information on platforms such as Youtube and Facebook. A data analysis conducted by CORRECTIV.Faktencheck shows that Youtube is the platform most frequently reported by users for spreading questionable information. Around 46 percent of the links sent to us requesting a fact check lead to the video platform.
At the same time, Whatsapp is the most important distribution channel: 34 percent of users declared that Whatsapp is where they had seen the potentially false information for the first time. You could say that Whatsapp is the motorway for fake news related to the coronavirus, with Youtube videos being the racing cars. 
The result: the dissemination of false information can be huge within the shortest of timeframes. According to a recent survey conducted by Forsa and commissioned by the regional media office of North Rhine-Westphalia, 81 percent of people in Germany believe that they have already come across disinformation about the coronavirus on the internet.
The source of the evaluated data is CORRECTIV's CrowdNewsroom, and they are not representative. Readers have been able to submit content that they consider to require a fact- check to the site that to require since mid-March. We have evaluated more than 1,800 reports over all. They are based on users' subjective assessments which pieces of information could be false. Thus, not all of them are necessarily fake.
However, what the submissions clearly show is which posts about the coronavirus have made people uncertain or aroused their mistrust, and the way in which this information reaches them.
The platform: around 46 percent of the links lead to Youtube
Youtube's particular importance becomes clear when you take a look at the platforms that appear most frequently in our data: An analysis of more than 1,400 links submitted to the CrowdNewsroom shows that 45.8 percent lead to videos on Youtube.
Second place goes to websites with 30.6 percent, followed by Facebook with 16.6 percent. As there is no way to create links to Whatsapp, the instant messenger cannot be included in this evaluation.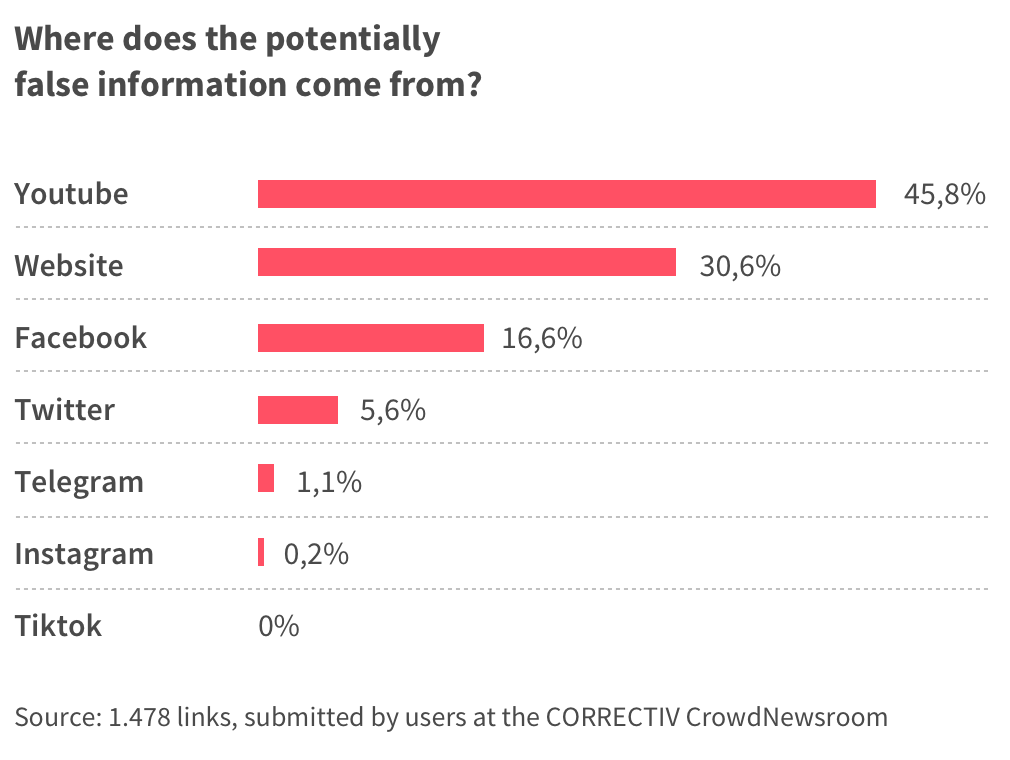 This means that by far the most frequent source of potentially false information reported to us by readers are Youtube videos.
The dissemination method: 34 percent state that they received the information via Whatsapp
When asked where they came across the information for the first time, 34 percent of users answered that it was Whatsapp. Facebook follows in second place with 28.8 percent. 14.2 percent of users indicated Youtube as their first contact, while 7.6 percent said it was websites.
Whatsapp is the way most people first come into contact with potentially false information – for example, because it was sent to them by family or friends.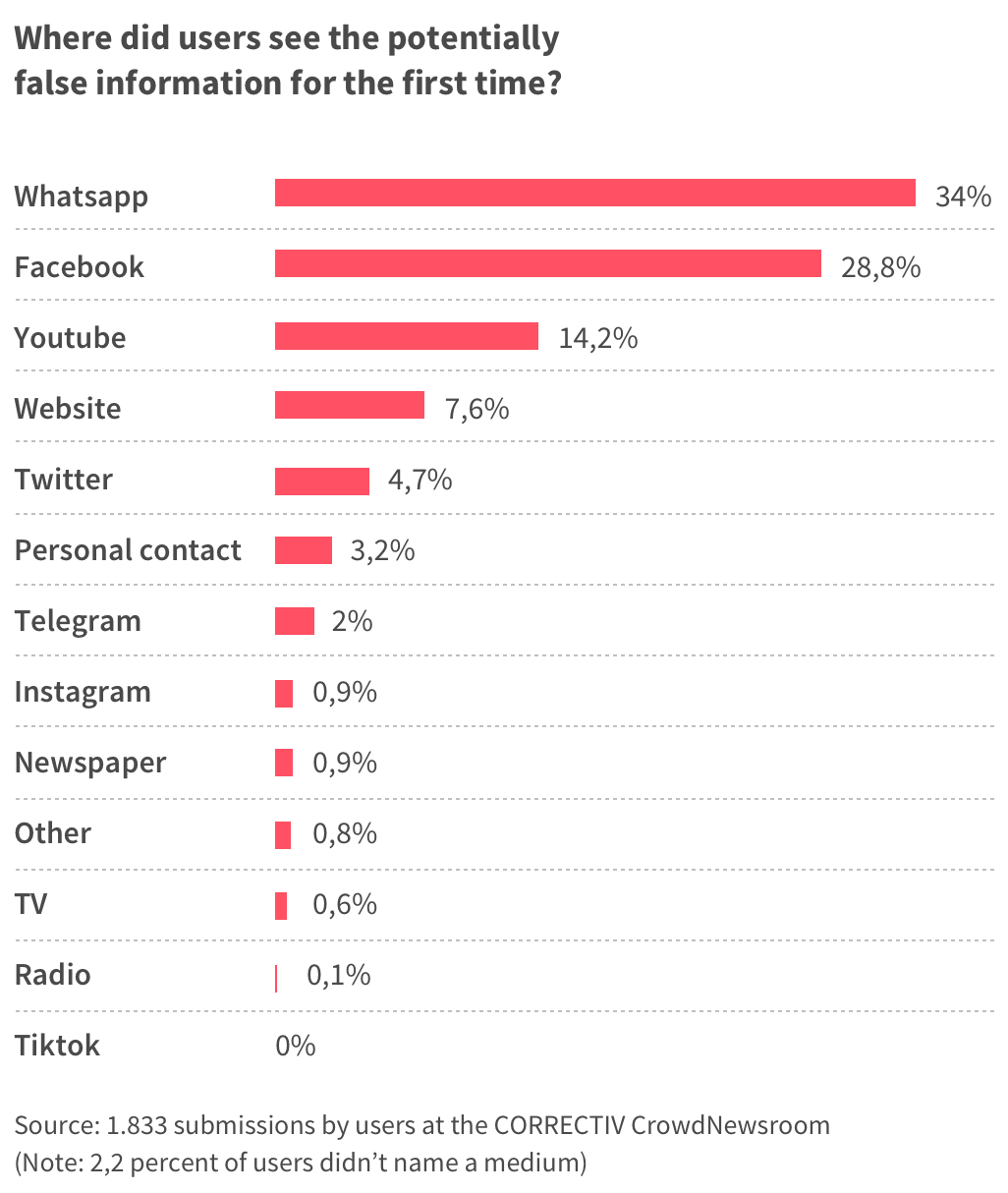 Thus, Whatsapp is the most common dissemination channel for questionable information – and Youtube is the place where it can be found.
The result of our data analysis reflects the great importance of these two platforms on the German market. According to an ARD-ZDF online survey (2019), 40 percent of the population as a whole access Youtube at least once a week. The video platform is particularly popular with younger internet users: 82 percent of people aged 14 to 29 visit it at least once a week.
But Whatsapp is even more widespread in Germany:  In 2019, 75 percent used the instant messenger at least once a week. In the case of people aged between 14 and 49, this figure even increases to more than 90 percent. Facebook is used by 31 percent of all people at least once a week.
False information on health subjects is dangerous
The fact that false information on health issues is being disseminated over social networks is not new – but the corona crisis has aggravated the problem.
False reports about Covid-19 spread internationally. For example, Whatsapp messages claiming that you should always take your shoes off at your front door because the coronavirus adheres to them, were sent in Germany, Ireland, and Croatia. And the false claim that drinking a sip of water every 15 minutes prevents infection, circulated on Whatsapp in Germany and Spain and on Facebook in Lithuania, Croatia, and the Philippines.
Numerous doctors, including virologist Christian Drosten, recently asked large technology companies in an open letter to act against the "infodemic". The operators of the platforms should "take immediate systemic action to stem the flow of health misinformation, and the public health crisis it has triggered". The doctors also refer to cheap propaganda targeting the vaccinations against measles as an example of this.
"Once a piece of fake news gets into someone's mind, it is anchored there in a relatively stable manner"
Sabrina Heike Kessler, of the Department of Communication and Media Research at the University of Zurich is a communication scientist specializing in science communication. She says: "The fact that people believe in fake news concerning health issues can also be explained by the human desire to be healthy, stay healthy, or to get well, and the fear of illness and death." When it comes to health, human beings are evolutionarily designed to rely on the thinking, recommending, and actions of others.
This is partly the reason of why false information about Covid-19 is spreading so swiftly, Kessler explains to CORRECTIV. "If the information that you read about the coronavirus is also plausible and fits into your own world view, it is stored directly in your mind. Once a piece of fake news gets into someone's mind, it is anchored there in a relatively stable manner and it is exceedingly difficult to remove."
What are technology companies doing about this?
Youtube, Whatsapp, and Facebook don't remain idle when faced with these issues. They are already taking measures to limit the spread of false reports.
Thus, Whatsapp has, since early April, restricted the forwarding of messages, which can now only be re-sent to a maximum of five chats. In addition, messages that have previously been forwarded five times can only be sent to one further chat. Upon request, Whatsapp informed us that this has reduced the amount of heavily forwarded messages by 70 percent.
Whatsapp also emphasizes that they support the work of fact checkers worldwide, as well as working with public authorities. In fact, users have recently been able to communicate with the WHO or the German Federal Ministry of Health on the subject of Covid-19 via a Whatsapp chatbot.
The Facebook company, which owns Whatsapp, has been cooperating with independent fact checkers like CORRECTIV for several years. As a result, people who have shared incorrect information on the social network are, also retrospectively, informed about this fact. In addition, Facebook states that posts about the coronavirus "that could pose an imminent threat to physical harm" are deleted on Facebook and Instagram.
Youtube: "We are working at full blast"
Youtube has no fact-checking program yet. The company removes videos with false medical information about Covid-19. Youtube spokesman Georg Nolte informed us by email that an example for this would be videos that claim that the coronavirus doesn't exist. Or that recommend "medically unsubstantiated methods" to avoid infection and prevent people from getting treatment. He also states that videos "explicitly denying the effectiveness of the guidelines of the WHO or the respective health authority, which could lead to people violating these guidelines" are deleted.
"We are working at full blast to protect our users from misinformation and want to connect them to reliable and helpful messages," says Nolte. In consultation with the German Federal Ministry of Health, info boxes were installed under the relevant videos, on the homepage, and in the search feature on Youtube. "We want to draw the attention of as many people as possible to the information panels of the Ministry and the related institutes. From a global perspective, we have already generated 14 billion impressions on the information pages of the various health organizations."
In Germany, Youtube has, for some time now, actually displayed a link to the Federal Centre for Health Education (BZgA) in videos on Covid-19.
But is this enough? Some videos are not deleted because it isn't evident that they meet the criteria mentioned. They usually have a lot of opinion content – and they are often misleading. An example of this is a 30-minute post by blogger Ken Jebsen, in which he makes several false claims and speculates that Bill Gates has taken control of healthcare in order to push through a forced administration of vaccines. Numerous readers have referred us to this KenFM Youtube video, with, by now, more than three million views.
A video interview with Stefan Homburg, in which he claims that the government's lockdown was unnecessary and ineffective, is also still online, although in the introduction moderator Milena Preradovic urges all viewers to please adhere to regulations regarding the coronavirus. On the other hand, it is, for example, no longer possible to find a video that places the statements of an Italian doctor on the coronavirus into the wrong context.
Chain letters on Whatsapp or videos on Youtube often reach extremely wide coverage before the first fact checks or media reports on them are published. And Youtube's reference to the Federal Centre for Health Education, which is also displayed below Ken Jebsen's video, can be misleading under certain circumstances. Users who don't know the background might actually consider it an indication of the seriousness of the claims therein.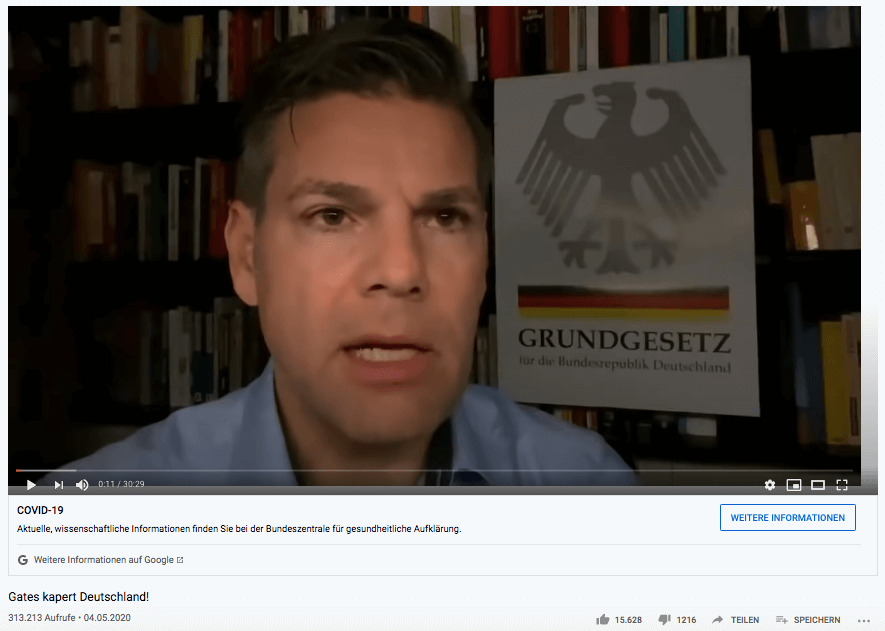 According to an assessment by communication scientist Kessler, Youtube tries to counter false reports and agitation, but: "Youtube will only be able to chase the fake news disseminators unless fundamentally new measures are taken."
Another problem is that big companies release few data for scientific studies. "Both Youtube and Whatsapp are difficult to study for the field of social science research," says Kessler. Nobody knows exactly what the extent of the false reports about the coronavirus look like on there.
In her view, companies need to do more. They should "invest more money, hire more people to track down fake news, cooperate more with independent fact checkers and work more with independent social science researchers to effectively and adequately combat the spread of fake news."
Special Evaluation: Below we list the five Youtube channels that were most frequently reported to CORRECTIV
Schwindelambulanz Sinsheim / Dr. Bodo Schiffmann
Videos by Bodo Schiffmann, a doctor who operates a clinic for diseases like vertigo in Sinsheim, were submitted to us 131 times. He opposes the government's coronavirus measures and recently even founded a party: "Widerstand2020" ("Resistance 2020"). As if by assembly line, Schiffmann has been producing videos on the coronavirus for weeks. His videos are full of speculation – something reflected by the frequency with which readers submitted them to the CrowdNewsroom.
Videos from the Youtube channel "eingeSCHENKt.tv" were reported 73 times. Journalist Thomas Schenk is behind this channel, with 85,000 subscribers, and posts that are more political than scientific in nature. Previous to the coronavirus crisis, videos with titles such as "CO2 und Klima(lüge)?" ("CO2 and climate [lie]?") were published there, as well as interviews with Max Otte from the Values Union of the CDU, or the right-wing Youtuber Heiko Schrang. Currently, the channel frequently reports on the so-called hygiene demos.
Prof. Dr. med. Sucharit Bhakdi
Sucharit Bhakdi is Professor Emeritus of Medical Microbiology and Hygiene at the University of Mainz. Links to his videos were sent to us by users 43 times. His Youtube channel was created just a few weeks ago and has around 71,000 subscribers – but some of his videos record one to two million views.
"KenFM" is the Youtube channel of blogger Ken Jebsen and counts 466,000 subscribers. In his videos, he generally downplays the dangerousness of the coronavirus and expresses suspicion about a big conspiracy behind the pandemic, including, among others, Bill Gates as puppet master. KenFM's posts were sent to the CrowdNewsroom 34 times.
Videos from "PUNKT.Preradovic", the Youtube channel of the former RTL presenter Milena Preradovic, with 37,000 subscribers, were reported 33 times. Among others, she interviewed Sucharit Bhakdi, who claimed that vaccinations against the coronavirus are "senseless"; economist Stefan Homburg, who considered the lockdown as unnecessary and superfluous; and physician Wolfgang Wodarg, who questioned the dangerousness of the coronavirus.
Text: Alice Echtermann
Data Analysis: Michel Penke, Max Donheiser
Graphics: Benjamin Schubert
Cooperation with the CrowdNewsroom: Till Eckert, Bianca Hoffmann, Matthias Bau, Steffen Kutzner
CORRECTIV is working around the clock to provide accurate and relevant information about the impact of coronavirus. We want to understand where there are problems affecting your profession and what we can learn from them. So we're asking for your input.
Are you a health worker at the forefront of this emergency in a german hospital or a patient? Are you an educator trying to navigate teaching your students from home? Are you working for the public administration concerned with emergency plans? Are you worried about losing your income, or an essential worker concerned about the health risk of going to your job?
If you or a family member has been affected by COVID-19, we want to hear your story. Through our CrowdNewsroom, you can share your tips and experiences about the situation in your job to help us report on the impact of coronavirus:
If you are an expert in a relevant field and would like to help our reporters with their questions about the coronavirus and its consequences, we would also like to hear from you.
Take a few minutes to share your story.
Participation of citizens in journalism is very important for us. Therefore, we have developed a platform, our CrowdNewsroom, on which each individual can contribute with specific information on a topic. You know best how the situation is on the ground, what problems arise, who is causing them and perhaps also how to solve them. Therefore we will ask you a few questions and give you the opportunity to report on your experiences or upload documents.
We use your information to research and report on it. We may be able to tell the chronicle of this extraordinary time from the stories you share with us.
And if you can, please share our call for participation. With more input, our results will be more meaningful.
Mafia (IT)
Emilia-Romagna, da terra rossa a terra di mafia.
Secondo il dossier, sono cominciate ad arrivare alla dine degli anni 50, quando, dopo l'emissionedella legge sul 'confino' nel 1958, l'Emilia Romagna ha iniziato a ospitare i mafiosi che venivano mandati li dallo Stato per 'ravvedersi'.
Il Gruppo Antimafia Pio La Torre ha appena pubblicato un dossier che riassume lo stato dell'infiltrazione mafiosa in Emilia Romagna, regione centrale lontana dalle roccaforti del crimine organizzato nel sud Italia ma non per questo libera dalla sua presenza.
Anzi. Quello che emerge è un quadro molto inquietante, dove se la 'Ndrangheta e la Camorra mantengono un ruolo egemone non mancano le infiltrazioni della Cosa Nostra siciliana, e si registrano presenze di numerose altre organizzazioni minori: dalla pugliese Sacra Corona Unita alle organizzazioni criminali nord africane, le temibili mafie nigeriane, cinesi e albanesi. Non mancano neppure gruppi organizzati latino americani, rumeni e est europei in genere.
Il primo è stato Procopio Di Maggio, capo mandamento di Cinisi (Pa), a cui è seguita la famiglia, e gli amici, e la famiglia degli amici, fino ad arrivare all'oggi: oltre 3.600 uomini e donne affiliati. Parliamo, tra gli altri, di Tano Badalamenti (che secondo la Criminalpol dal '74 al '76 gestiva i suoi traffici illeciti dalla provincia di Modena), Pasquale Condello, il "supremo Boss" di Reggio Calabria ("cuore in Calabria e portafoglio a Cesena" si diceva) e il Casalese "Sandokan", in origine Francesco Schiavone.
CORRECTIV ist spendenfinanziert!
CORRECTIV ist das erste gemeinnützige Recherchezentrum im deutschsprachigen Raum. Unser Ziel ist eine aufgeklärte Gesellschaft. Denn nur gut informierte Bürgerinnen und Bürger können auf demokratischem Weg Probleme lösen und Verbesserungen herbeiführen. Mit Ihrer Spende ermöglichen Sie unsere Arbeit. Jetzt unterstützen!
Ma il Gruppo Antimafia Pio La Torre non traccia solo lo storico dell'infiltrazione, ci racconta in modo preciso anche la situazione odierna. Appalti pubblici, gestone di opere pubbliche, pizzo, movida e bei ristoranti alla moda, come il Regina Margherita di via Farini a Bologna.
In 50 pagine traccia le maggiori operazioni di polizia antimafia che hanno dato filo da torcere alle organizzazioni in Emilia-Romagna, operazioni che descrivono senza mezzi termini il modo in cui la Regione è ormai utilizzata come un proseguimento delle terre d'origine per tutte e quattro le mafie italiane.
La Direzione Investigativa Antimafia nel suo ultimo rapporto semestrale sottolinea inoltre come la zona sia ormai 'inquinata' dal gioco d'azzardo che spesso porta all'indebitamento e successiva estorsione e usura da parte delle mafie. Ma pochissimi sono quelli che denunciano, compresi migliaia di esercizi commerciali che pagherebbero il pizzo in silenzio. E il paradiso fiscale di San Marino sarebbe ideale per 'pulire' fondi neri senza dovere coprire lunghe distanze. Dice il dossier:
"L'Emilia-Romagna balza al quarto posto per il riciclaggio di denaro sporco. Peggio stanno solo
Lombardia, Lazio e Campania: il numero delle operazioni sospette nel 2012 è stato pari a 5.192, nel 2008 erano 986."

Cecilia Anesi, Giulio Rubino

I Carabinieri della Compagnia di Andria hanno infatti eseguito questa mattina una misura cautelare personale emessa dal G.i.p. del Tribunale di Bari, su richiesta della locale Direzione Distrettuale Antimafia, nei confronti di due pluripregiudicati di Andria, il 43enne Francesco N., detto "ciciridd", e il 39enne Nicola S., detto "zingrid", entrambi appartenenti al clan mafioso "Pastore-Lapenna", radicato nella cittadina del nord barese.
I due sono ritenuti responsabili di una serie di reati – tutti commessi con l'aggravante di tipo mafioso: tentato omicidio, detenzione abusiva di armi e munizioni, ricettazione, danneggiamento a seguito di incendio.
Il tentato omicidio sul quale gli inquirenti sono riusciti a fare luce dopo anni, si inserisce nella cruenta guerra tra i clan "Pesce-Pistillo" e "Pastore-Lapenna" per il controllo del traffico di stupefacenti che ad Andria trova un importante centro di smistamento per tutta la regione.
CORRECTIV ist spendenfinanziert!
CORRECTIV ist das erste gemeinnützige Recherchezentrum im deutschsprachigen Raum. Unser Ziel ist eine aufgeklärte Gesellschaft. Denn nur gut informierte Bürgerinnen und Bürger können auf demokratischem Weg Probleme lösen und Verbesserungen herbeiführen. Mit Ihrer Spende ermöglichen Sie unsere Arbeit. Jetzt unterstützen!
Spiegano i Carabinieri: "Siamo nel pomeriggio del 29 agosto del 2007, sono le 15:40, quando due soggetti, identificati in "ciciridd" e "zingrid", a bordo di una Audi A8 rubata, raggiungono la centralissima piazza Murri di Andria, e, mentre il primo attende in macchina, il secondo esplode un intero caricatore (ben 32 colpi) di mitra contro Pietro D.E., pregiudicato del luogo, all'epoca dei fatti 24enne. Tenta di fuggire ma viene ripetutamente colpito al torace e agli arti. Uno dei killer si avvicina per sparargli un colpo di grazia alla testa, ma si accorge di aver finito le munizioni. Si accanisce sul corpo ferito di D.E., colpendolo ripetutamente e dicendogli 'oggi sei morto'. In realtà la vittima, fingendosi morta, riuscirà a salvarsi dal tremendo agguato."
L'attività investigativa, avvalorata dalle dichiarazioni di sei collaboratori di giustizia, ha accertato che il movente fosse duplice: da una parte la ripartizione delle piazze di spaccio, dall'altra vendicare un altro tentato omicidio, il tutto per favorire l'associazione di tipo mafioso denominata "Ex Pastore".
Cecilia Anesi, Giulio Rubino
Mafia (IT)
Arrestato in Bulgaria Zdravko Ivanov aka 'Pascal'. Lavorava per la 'ndrangheta a Milano
A coronamento dell'operazione coordinata dalla Direzione Distrettuale Antimafia di Milano, con la quale i Carabinieri del Nucleo Investigativo di Milano avevano colpito nei giorni scorsi il gruppo 'ndranghetista dei 'Branca', diretta diramazione delle cosche Libri - De Stefano – Tegano, originarie di Reggio Calabria, arriva oggi l'arresto a Knezha, in Bulgaria, di Zdravko Ivanov, classe 1975, considerato fornitore di stupefacente in concorso con l'associazione mafiosa.
Nell'ambito delle indagini, il criminale bulgaro, aka 'il francese' o 'Pascal', è emerso quale costante punto di riferimento per l'importazione dalla Bulgaria, la detenzione e lo spaccio di alcune centinaia di chilogrammi di cocaina, marijuana ed hashish. Lo straniero operava in Italia come terminale di un canale illecito di approvvigionamento ben collaudato.
Legge l'ordinanza di custodia cautelare della DDA di Milano, i due bulgari "Angelov Atanas e Ivanov Zdravko partecipano alla associazione, in qualità di stabili fornitori del sodalizio" e a differenza di altri fornitori i bulgari hanno operato come fornitori praticamente per l'intero periodo di operatività della associazione mafiosa, essendo pienamente consapevoli di avere a che fare con la 'Ndrangheta e quindi "il loro apporto di fornitori si traduce in un contributo essenziale alla sussistenza ed al permanere in vita del gruppo stesso".
Sia Angelov che Ivanov hanno — nell'accusa — l'aggravante della transnazionalità. Angelov e i fratelli Giulio e Vincenzo Martino, di cui abbiamo gia scritto, si erano conosciuti in carcere negli anni 90. Dice l'ordinanza "quindi la conoscenza che costoro fossero componenti di una associazione mafiosa che dal traffico di stupefacenti traeva utilità" era un dato di fatto sia per Angelov che per il suo 'luogotenente' Ivanov, l'arrestato di oggi.
CORRECTIV ist spendenfinanziert!
CORRECTIV ist das erste gemeinnützige Recherchezentrum im deutschsprachigen Raum. Unser Ziel ist eine aufgeklärte Gesellschaft. Denn nur gut informierte Bürgerinnen und Bürger können auf demokratischem Weg Probleme lösen und Verbesserungen herbeiführen. Mit Ihrer Spende ermöglichen Sie unsere Arbeit. Jetzt unterstützen!
I due bulgari, spiega il pm nell'ordinanza, non sono trafficanti individuali ma sono inseriti in contesti strutturati ed organizzati di narcotraffico internazionale, che consente loro di operare in più stati europei, anche Olanda e Spagna oltre a Bulgaria e Italia, ed extraeuropei, essendoci collegamenti operativi per il traffico di cocaina con fornitori sudamericani.
Il provvedimento delle autorità bulgare segue l'internazionalizzazione delle ricerche, attivata presso il Servizio di Cooperazione Internazionale di Polizia dell'Interpol dai Carabinieri del Nucleo Investigativo di Milano ed il trafficante è ora in attesa dell'estradizione in Italia.
Di Cecilia Anesi, Giulio Rubino
Mafia (IT)
Bari: arresti e condanne definitive per 9 membri del clan Di Cosola
All'alba di oggi nove affiliati al clan mafioso Di Cosola della Sacra Corona Unita di Bari sono stati arrestati dai Carabinieri del Nucleo Investigativo del Reparto Operativo della citta' pugliese, in esecuzione di altrettanti provvedimenti di carcerazione per condanne definitive emesse dalla Procura Generale presso la Corte d'Appello di Bari.
I clan di Bari disegnati da Il Corriere del Mezzogiorno:

Si tratta di reati di associazione mafiosa e traffico di droga per cui gli arrestati sono stati riconosciuti colpevoli a vario titolo perché ritenuti appartenenti al potente clan, attivo in particolare nel quartiere di Ceglie del Campo ed in parecchi comuni limitrofi al capoluogo.
I reati contestati risalgono agli anni 2007 – 2010 e tra i fatti di sangue più significativi per cui il clan Di Cosola è ritenuto responsabile, in quel periodo, vi sono l'omicidio di Martino Salatino, avvenuto in Adelfia il 10 agosto 2008 e l'omicidio di Mazzilli Nunzio detto 'testone', avvenuto a Capurso il 26 giugno 2009.
CORRECTIV ist spendenfinanziert!
CORRECTIV ist das erste gemeinnützige Recherchezentrum im deutschsprachigen Raum. Unser Ziel ist eine aufgeklärte Gesellschaft. Denn nur gut informierte Bürgerinnen und Bürger können auf demokratischem Weg Probleme lösen und Verbesserungen herbeiführen. Mit Ihrer Spende ermöglichen Sie unsere Arbeit. Jetzt unterstützen!
Il clan Di Cosola si occupa principalmente di traffico di droga ed estorsioni.
Di Cecilia Anesi, Giulio Rubino
Lo ha scoperto una indagine durata mesi e condotta transnazionalmente dal Servizio Centrale Operativo della Polizia di stato, in collaborazione con la squadra mobile di Reggio Calabria, e gli agenti della Federal Bureau of Investigation (Fbi).
Tredici i soggetti raggiunti da fermo in Italia di cui tre – Gregorio G., la moglie e un figlio – arrestati a New York. Dovranno rispondere di traffico internazionale di droga. Un'operazione che ribadisce l'assoluto ruolo di spicco della 'Ndrangheta calabrese nel traffico mondiale di cocaina in collaborazione con la Cosa Nostra newyorkese. Lo ha dimostrato lo scorso 6 maggio l'operazione New Bridge, che disegnava per la prima volta le nuove alleanze tra le famiglie mafiose siculo-americane dei Gambino, Lucchese, Bonanno con i calabresi delle cosche ioniche-reggine. Lo aveva iniziato a tracciare l'indagine Solare1 del 2008 che trova oggi nell'operazione "Columbus" un importante tassello mancante.
Ai tempi di Solare1, infatti, gli inquirenti avevano intercettato l'ndranghetista Giulio Schirippa che nominava ad alcuni interlocutori un certo Gregorio "di Corona" (quartiere di Queens, New York), ma non erano riusciti a identificarlo. L'indagine "Columbus" ha ora scoperto come proprio quel Gregorio nominato da Schirippa sia stato per anni al servizio delle cosche ioniche-reggine assumendo un ruolo di vertice all'indomani dell'arresto di Schirppa, tirando i fili dell'ingente traffico di cocaina scoperchiato dagli agenti Sco-Fbi.
Il 12 ottobre 2014, giorno del Columbus Day, investigatori della Polizia di Stato – guidati da Andrea Grassi — e dell'F.B.I. hanno fermato un carico di 60 kg di cocaina nel porto di Wilmington in Delaware, nascosto tra la frutta fresca proveniente dal Cosa Rica.
Era così che l'organizzazione guidata da Gregorio gestiva il traffico, nasconendola in carichi di frutta fresca che veniva importata grazie ad una serie di aziende di import-export dal paese centroamericano verso gli Stati Uniti d'America, come la G&FHOMES INC., FRESHFARM PRODUCE EXPORT CORP., LAQUISTA FOOD CORP., INTERNATIONAL WINE IMPORTS.
CORRECTIV ist spendenfinanziert!
CORRECTIV ist das erste gemeinnützige Recherchezentrum im deutschsprachigen Raum. Unser Ziel ist eine aufgeklärte Gesellschaft. Denn nur gut informierte Bürgerinnen und Bürger können auf demokratischem Weg Probleme lösen und Verbesserungen herbeiführen. Mit Ihrer Spende ermöglichen Sie unsere Arbeit. Jetzt unterstützen!
Il carico di 60 kg sequestrato in quell'occasione è solamente una piccola parte delle ingenti quantità mosse dai trafficanti, ma serve oggi come "corpo del reato" per inchiodare l'intera struttura criminale.
Stoccata negli USA, la droga veniva spedita o in container verso i grandi porti spagnoli e olandesi o in Italia in piccoli pacchi da pochi chili ognuno, nascosti nei doppi fondi di valigie trolley trasportate da corrieri, per lo più donne.
La mente criminale dell'organizzazione, si legge sull'ordinanza di fermo scritta dal pm Paolo Sirleo della Direzione Distrettuale Antimafia di Reggio Calabria, era senza dubbio Gregorio G., e la sua longa manus in Calabria era Franco F., che curava i rapporti con i compratori ndranghetisti e interloquiva con i narcos costaricani. I compratori affiliati, Francesco e Carmine V., rappresentano gli interessi della cosca Alvaro di Sinopoli. Tra i compratori e i broker la cocaina veniva descritta come "olio" definendolo "acido" quando la qualità non era soddisfacente.
Importantissima nel traffico anche la moglie di Gregorio. La donna si recava spesso di persona in Calabria per trattare con le cosche ma aveva anche il ruolo cruciale di corriere del denaro verso il Costa Rica. Emergono anche importanti connessioni con le famiglie mafiose di New York. Secondo gli investigatori americani il figlio di Gregorio, Angelo, sarebbe in stretti rapporti con "Tough Tony", soprannome di Antony Michael Federici, membro di spicco della famiglia siculo-americana Genovese, proprietario del ristorante Park Side, anch'esso a Queens, non distante dal "Cucino a Modo Mio" di Gregorio G.
Di Giulio Rubino e Cecilia Anesi