Fact-checking
Fake news of the week: Russian sanctions
Last week, Twitter users claimed their accounts were being closed due to Russian sanctions - what was really going on?
Each week, in a partnership with Exberliner, CORRECTIV will bring you a piece of misinformation that has been circulating online in Germany – and the corresponding fact check.
This time, we examine images of letters shared on Twitter informing Russian customers of Deutsche Bank and Postbank that some features of their accounts could be limited due to the sanctions being imposed by the European Union. While posting the letter, one user wrote "I'm lost for words – though I've only got a savings account, it will be canceled today. I don't support that!"
Correctiv looked into the providence of these letters and confirmed that yes, the letters dating from March 4 were genuine – although they ranked the overall story as "missing context" due to the comments implying that all Russian customers accounts would be immediately limited.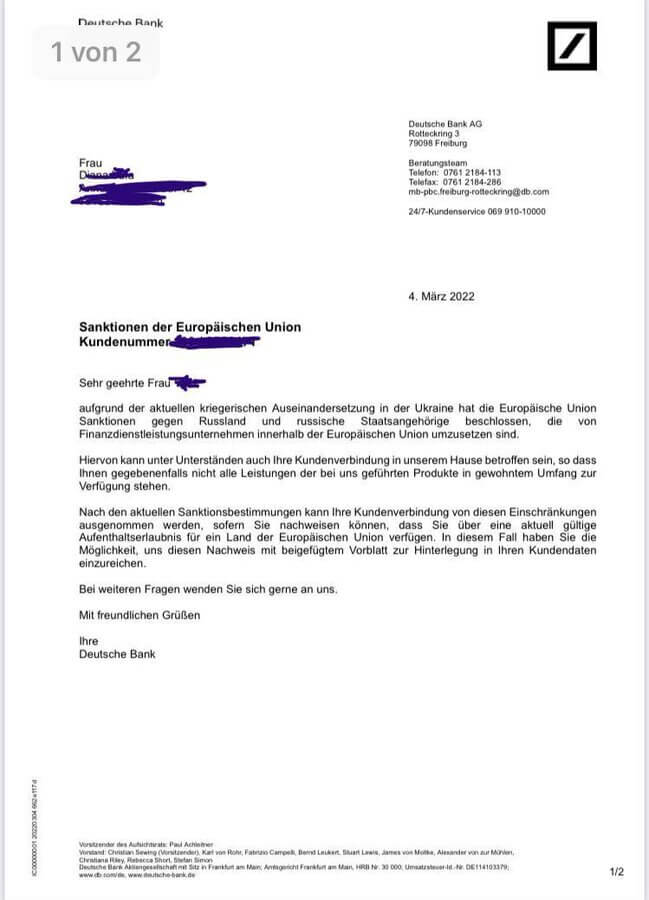 According to the EU Council regulation of February 25:
"It is prohibited to accept deposits from Russian citizens or natural persons resident in Russia or from legal persons, entities or bodies established in Russia if the total value of the deposits of the natural or legal person, entity or body per credit institution exceeds EUR 100,000."
So the only accounts which would be affected were those that contained more than €100,000 – and that restrictions could be lifted if the account holder provided EU citizenship or a valid residence permit. In short, Deutsche Bank has imposed sanctions against Russian customers, but only the rich ones.