Latest Stories
The Girl in Abidjan
Western Africa is an important hub for cocaine shipments from Latin America to Europe. The Ivory Coast could be a new knot in the smuggling network of the Italian 'ndrangheta. The country is home to a mafia boss' daughter who took refuge in the country after a doomed love affair forced her to leave Italy. But once you're family, you're never out of the reach of the 'ndrangheta, as this investigation shows.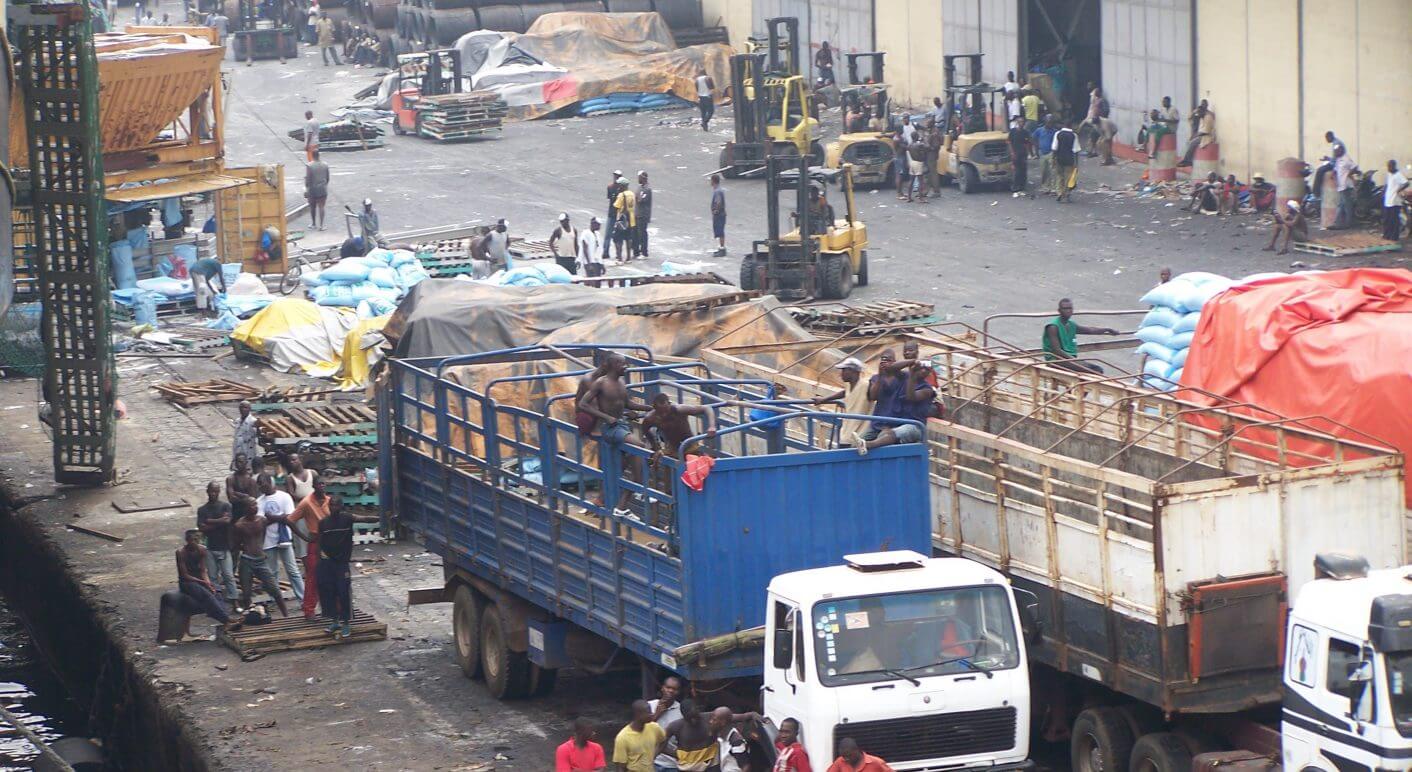 On a typical day in early October 2015, more than 27.000 containers would move through the port of Antwerp, Belgium. The second largest entry point for goods shipped to Europe,  the port is full of giant cranes. They make 40 moves an hour, constantly picking up containers, one indistinguishable from the other,. In the highly automated port, only a fraction of containers are inspected by customs or police. That's why on a day in October 2015, a special load passed through unnoticed.
Later that month in Siderno, a small coastal city deep in southern Italy, a man would walk across a field in the hills above the town pushing a wheelbarrow filled with broken bricks. The man would make his way towards a small warehouse used to store old tires at the other end of the field, before placing a white plastic bag inside the warehouse. A little later he would hand the bag over to the driver of a jeep, who would depart to town. Unbeknownst to them, police were watching the hand-over. Officers would stop the jeep not long after the transaction, search it and find a white brick: about one kilo of pure cocaine.
Thanks to this bust, the police would later piece together the route these drugs took to reach Calabria, the home to the powerful 'ndrangheta mafia group. The brick was part of a larger batch, likely tens of kilos of pure cocaine from Latin America that entered Europe in a container passing through Antwerp a few weeks before the seizure, arriving from the Western African port of Abidjan.
Cocaine trafficking is the primary source of the power of the 'ndrangheta. The group is at home in the Southern Italian region of Calabria while other mafia groups, such as the Camorra, operate from the area around Naples and the Cosa Nostra from Sicily.
The 'ndrangheta is estimated to control 40 percent of global cocaine shipments and is the main importer of cocaine into Europe. The group launders its proceeds, which are estimated by some to be more than 25 billion euros per year, through companies it owns in construction, tourism and trading. They are thought to use Germany and Switzerland in particular, two countries in which anti-money laundering and anti-mafia laws are lax.
So many 'ndrangheta members come from the Calabrian city Siderno that an important subgroup of the 'ndrangheta has been named after the town: the Siderno group of crime. The rugged town is richer than Beverly Hills thanks to the narco-dollars. Some of the richest men of Italy meet here in a laundry shop or in the garage of a wretched building, their decisions moving  global cocaine prices and, impacting cocaine growers as far away as Latin America.
The Siderno syndicate has a global reach and consists of four major families: the Commisso, the Aquino-Coluccio, the Crupi and the Figliomeni. Which of these families is up and coming, and which sees its fortune decline depends heavily on how many of its members are in jail. Often, the women of the families have to keep the criminal family business going while their men are jailed.
Juliana and her "Romeo"
Women born to 'ndrangheta families have few rights and are subjected to the decision-making of the paternal rulers. Marriages are directed by dynastic rules and a woman who wants to chose her love will either have to escape or raise a scandal.
It's precisely a scandal within the most powerful crime group of the world that Juliana (name changed) caused in 2009. An attractive woman in her mid 30s, Juliana studied at university in Milano and is fluent in English and French.
She's also the daughter of a former top official in the government of Siderno and from one of the most powerful 'ndrangheta families of the city. In 2009, she fell in love with, from a 'ndrangheta point of view, the wrong man: a relative of the boss of the Siderno syndicate who goes by the alias U'Mastru (the master). U'Mastru was furious and blamed Juliana's father for not exercising control over his daughter to stop the relationship.
Juliana's love affair would end far less tragically than Shakespeare's star-crossed Romeo and Juliette. But still, investigators believe the affair and its subsequent end seriously burdened the relationships between the families. But in the end, their common business interests trumped emotions.
A coincidence also helped defuse the tensions. In December of 2010, Antimafia prosecutor Nicola Gratteri ordered the arrest of Juliana's father over corruption and mafia membership charges. According to Gratteri, police arrested him just as he was attempting to escape to Australia, where Juliana was living at the time. Juliana briefly returned to Italy, but only to pack her bags and make a final move out of the country. In April 2011, Juliana moved to Abidjan, the commercial capital of the Ivory Coast, where she she is still living today. A court in Italy sentenced her father to 12 years in prison, though the verdict is still not final.
The syndicate in West Africa
On February 12, 2014, having landed in Abidjan just three days earlier, Claudio Spataro called one of his associates in Italy.
"How is the girl? Is she taking your around?" his contact asks him according to transcripts of police wiretaps seen by CORRECTIV: "Yes, yes. She is working hard", Spataro answers, seemingly glad he has help in a foreign country he struggles to navigate on his own. "If it wasn't for her, we would be ruined. Here, I don't understand the language. I know nothing."
Prosecutors allege that Spataro, in his mid-50s, was a lieutenant to U Mastro in Siderno, in charge of the logistics of smuggling cocaine through Europe and the subsequent distribution to buyers in Siderno. Investigators also believe that U Mastru sent Spataro on trips abroad to strike drug deals and set up smuggling logistics. His cover in Siderno was a gas station that he owned and a business that traded old tires. It was Spataro who had stored the kilo of cocaine at the end of a field near Siderno that had come via container from Abidjan, passing through Antwerp. The girl helping him around Abidjan was Juliana.
She might have liked it or loathed it, but her family had requested her help and it appears she was unable to divorce herself from the family business. She wasn't the only one. Court records show Spataro used her brother's phone number  to register his plane ticket, court records show.
CORRECTIV ist spendenfinanziert!
CORRECTIV ist das erste gemeinnützige Recherchezentrum im deutschsprachigen Raum. Unser Ziel ist eine aufgeklärte Gesellschaft. Denn nur gut informierte Bürgerinnen und Bürger können auf demokratischem Weg Probleme lösen und Verbesserungen herbeiführen. Mit Ihrer Spende ermöglichen Sie unsere Arbeit. Jetzt unterstützen!
During the past decade, West Africa has become an important logistics hub for the Italian 'ndrangheta as shipments from South America arriving directly at European ports raise more suspicion than those arriving from Western African ports. In addition, there are few custom controls in the region and bribery is common.
A devastating effect
The presence of the Italian mafia has had a devastating effect on the region. It has increased the level of drug use in countries that previously had no market for cocaine. It also undermines the rule of law in countries where corrupt payments offered by the mafia by far exceed the salaries of state officials. In some cases, organized crime teams up with local guerrillas who then use the proceeds to fund their wars.
Guinea-Bissau and Ghana were the first countries to be identified as major cocaine hubs in the region. The Italian mafia is also thought to have a presence in Senegal as well as a stake in the Moroccan hashish trade. Now, cocaine smuggling through the Ivory Coast seems set to grow.
On the phone from Abidjan, Spataro explained to his associate at home that Juliana took three days off work to help him. The conversation continues with what investigators believe is a cryptical description of setting up a smuggling operation, including a reference to finding out the cost for a container. Spataro discussed trading old tires, but investigators believe it is a code for cocaine smuggling. The members of 'ndrangheta know their phones are likely tapped by Italian police.
"The wiretaps seem to show Spataro was in Ivory Coast to organise drug trafficking", it says in police records that are part of a police investigation into the Commisso clan of the Siderno syndicate. The records show that another phone call, this time between Spataro and Juliana, also is of interest to investigators. Once back in Italy, Spataro spoke to Juliana at length about the installment of a mysterious sand cleaning machine, seemingly unrelated to the tire business.
A mysterious Dutch man
When contacted for an interview, Juliana initially said she was "honoured" and wished "to contribute to the fight against the 'ndrangheta in her home country", but then stopped replying. She did not respond to a list of questions submitted before publication of this article.
Spataro was arrested last year, charged with storing and selling cocaine in Siderno for U'Mastru. A lawyer for Spataro did not respond to a request for comment.
During the investigation, police say they discovered Spataro not only travelled to the Ivory Coast but also undertook numerous trips to Brazil, an important 'ndrangheta hub.
"Listening to them for over two years, we confirmed how U'Mastru was the leader of an extremely powerful drug ring based in the Locride", remembers prosecutor Antonio De Bernardo, referring to a sub-region of Calabria. "He is a sort of feudal lord through whose hands the entire illicit traffic had to pass, including of course the drugs."
Italian police believe Claudio Spataro was tasked by U'Mastru to set up a successful smuggling route connecting Abidjan to Siderno on behalf of the Commisso clan. The port of Antwerp and the surrounding Flanders region was a key hub in-between. Court records show the Siderno syndicate had helpers in the region who are still at large today. A close associate of U'Mastro often received phone calls from another associate whose last known residence is the Flanders city of As. The two would discuss different import-export businesses which are thought to be a cover up for drug trafficking. In one of the latest wiretapped conversations, his associate talks about a mysterious Dutch man who is "a big fish", having a company that can be used "as a bridge" for a "standard item" that weighs "250 units".
The news of that unidentified Dutch man on the wiretap is rather revealing. It demonstrates the number of helpers associated with the 'ndrangheta extends far beyond West Africa. It underscores the power and vast network of individuals like Juliana who, under the control of the 'ndrangheta, allow the criminal organization to move drugs worldwide.
This publication is a cooperation with the Italian journalist centre IRPI and the Occrp network. It has been funded by the Flanders Connecting Continents Grant.