Fact-checking
Fake news of the week: War in Ukraine
Since Russia's invasion of Ukraine, German social media has been flooded with misinformation and images shared out of context.
Each week, in a partnership with Exberliner, CORRECTIV will bring some piece of fake news that has been circulating online – and the corresponding fact check.
Since Russia's invasion of Ukraine, misinformation, out of context videos and images that need further clarification have spread online in Germany. CORRECTIV have been constantly monitoring reports. Here are some of the corresponding factchecks.
Did video show the corpses at Bucha moving? 
The massacre at Bucha, just a few kilometeres outside Kyiv, is already one of the grimmest events of Putin's war on Ukraine. However, on Twitter and Telegram, some users claimed that the video of dead bodies lying in the street had an odd inconsistency about them. The corpses, they claimed, were moving.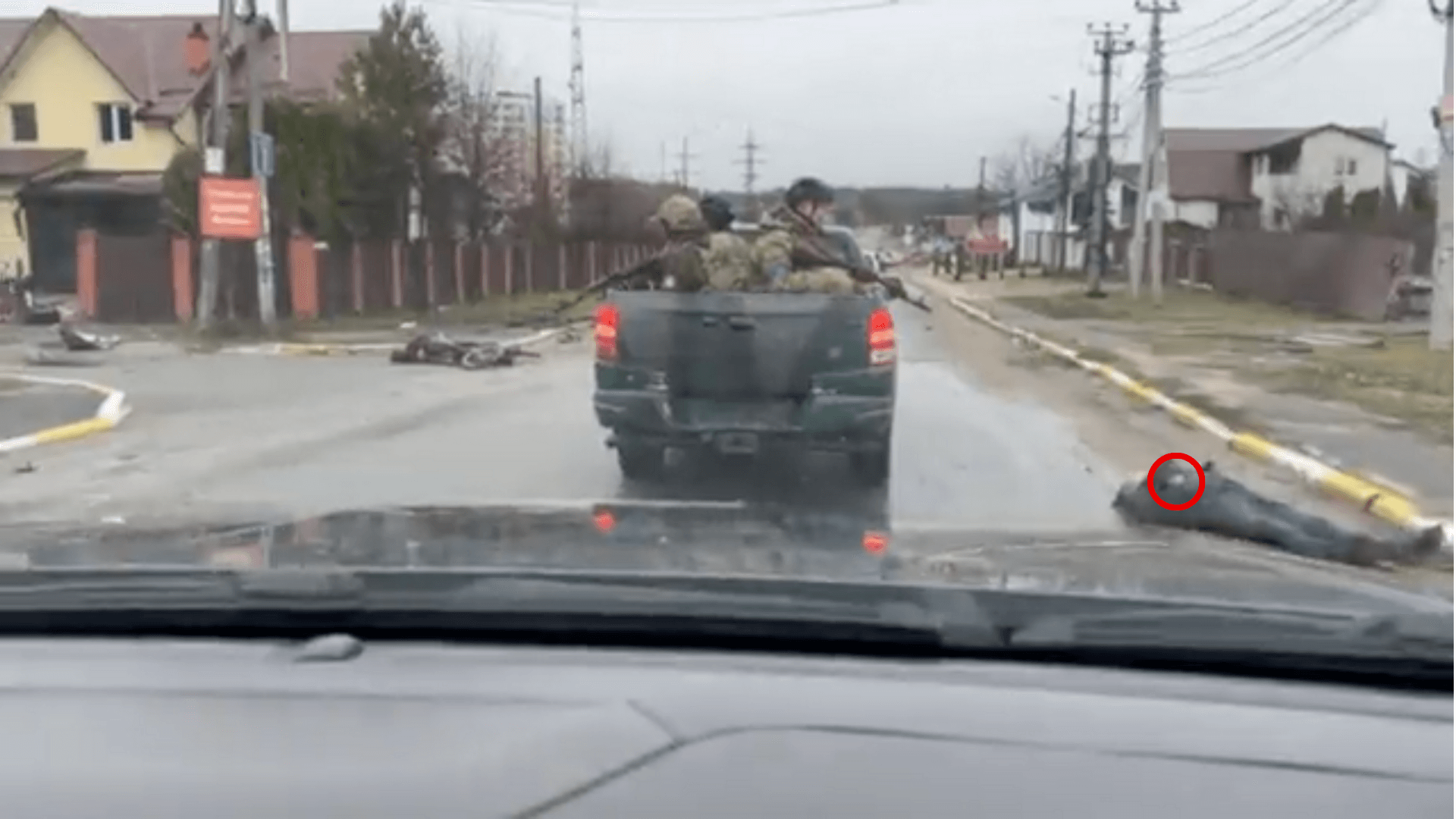 So was this a set up, as claimed by several users including the Russian ministry of defense? In short, no. What some people claimed was one of the bodies moving its arm, turned out on closer inspection to be a raindrop or a speck of dirt on the windshield of the car through which the film was shot. What was claimed to be a "dead body" standing up and sitting back down, was in fact a distortion in the wing mirror in the car, as outlined in detail by this journalist from the BBC.
Correctiv rated this report: "false".
Did Russians kill the deadliest sniper in the world? 
Reports on Telegram claimed that just 20 minutes of fighting in Mariupol, a Canadian sniper with a reputation as being the "deadliest" sharpshooter in the world was killed by Russian forces. This claim was seen more than 100,000 times on the pro-Russian Telegram channel "Neues aus Russland" – but the story was false. The man, who goes by the nickname Wali, is still alive.
The 40 year old, whose real identity is a secret, gave an interview with the Canadian Toronto Star, confirming his good health. His reputation stems from holding the world record for the longest distance fatal shot: he killed an ISIS from 3,540 feet in Iraq in 2017.
Correctiv rated this report: "false".
Was aid intended for Ukraine dumped and burned in an incinerator?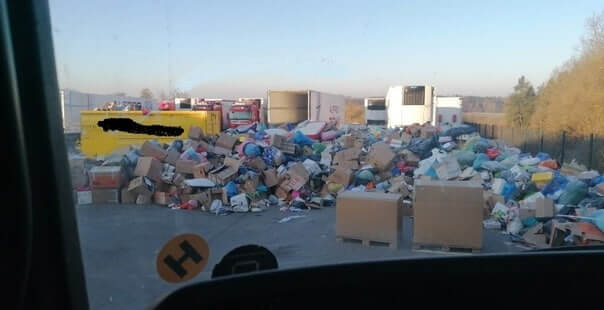 On social networks like Telegram and Facebook, an image was circulated which claimed to show aid intended for Ukraine, dumped on the floor, ready to be incinerated. Many of the claims on social media even went further, stating that the company had in fact supplied arms for the conflict, using the donated aid as a cover to get the documents needed to transport weapons.
However, according to Correctiv's investigations, what these images really show is the items left behind after the truly necessary aid was sorted out. Is it well documented that the logistics company Alfred Böhm has brought truck loads of medicine and food to the Polish Ukrainian border – what these images show are the unnecessary goods left behind, items like bikinis, summer shoes, and other items of insufficient quality.
Correctiv rated this report as: "mostly false".
Were the pregnant women injured in an attack on Mariupol maternity hospital played by an actress?
This piece of misinformation comes from a well-known twitter troll: the Russian embassy in London.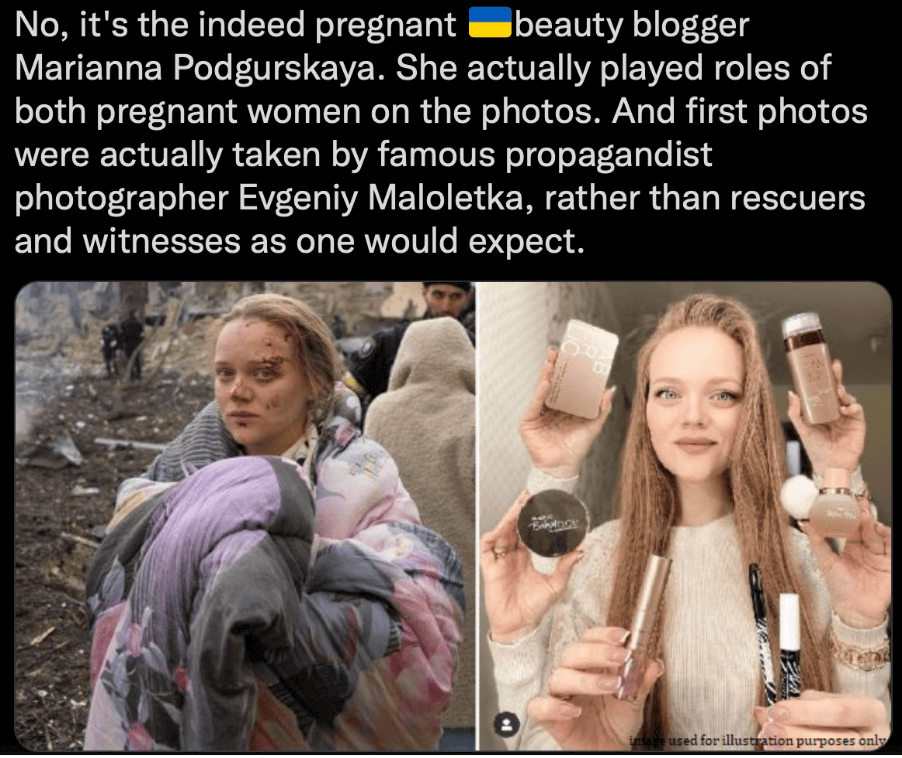 Juxtaposing a couple of images, they spread the claim (the tweets were later removed by Twitter) that the injured pregnant women who appeared in a video showing the aftermath of the bombing of a maternity hospital in Mariupol was in fact an actress, playing the victims. This misinformation was then spread in Germany by the website Anti-Spiegel.
A simple good search revealed that the woman in one of the pictures was in fact a well-known beauty blogger from Mariupol, but she was also a patient in the hospital. Associated Press reported that her baby was born on March 11.
Anti-Spiegel also spread the claim that various women in the video were played by the same actress. But close analysis of the very same video they shared revealed this to be untrue. One of the women in the video was so badly injured, she later succumbed to her injuries.
Correctiv rated this story as false.
Was this Russian jet shot down over Ukraine?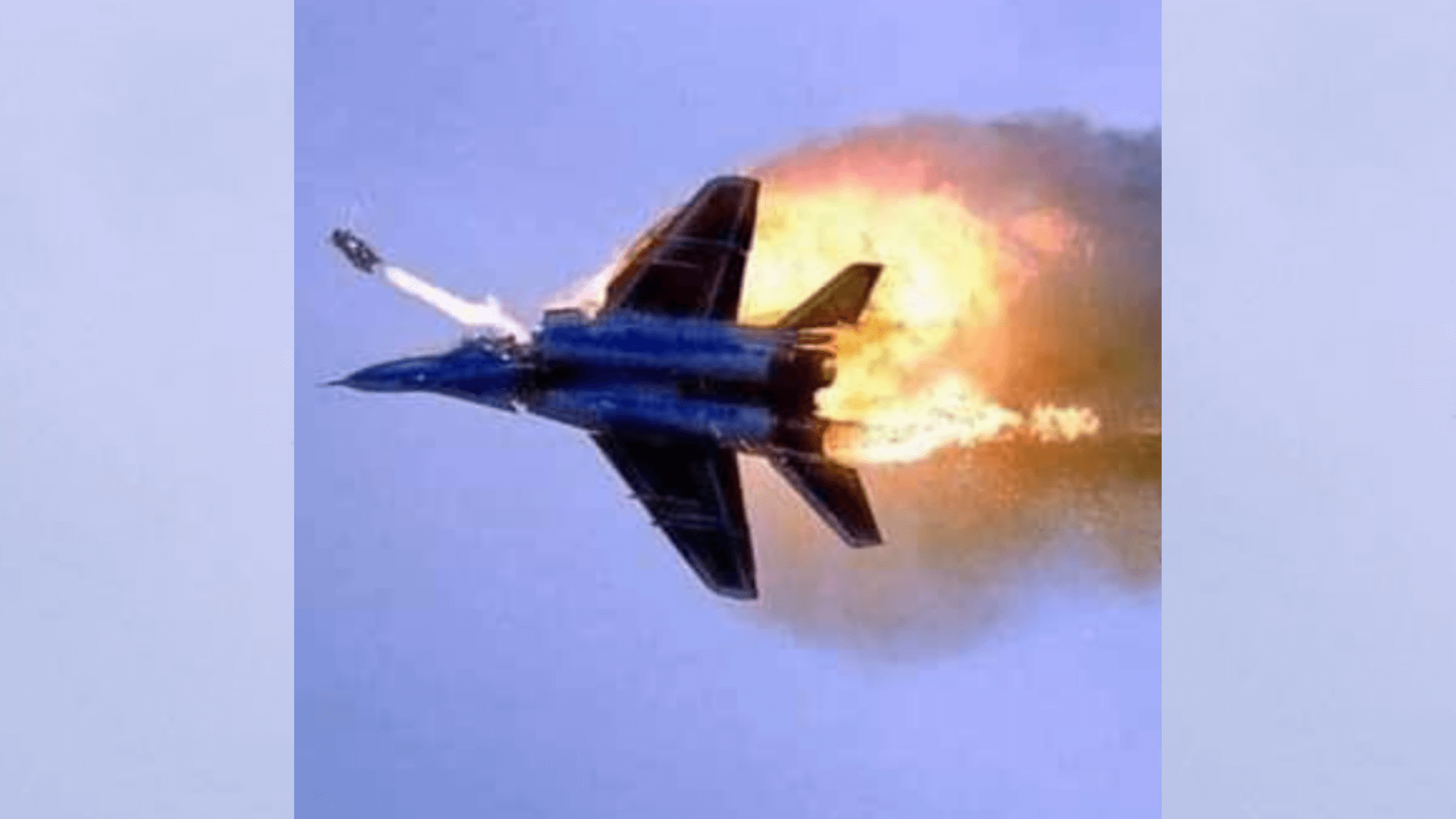 On February 24, it was reported that the Ukrainian military shot down several Russian planes – and this appears to be true. However, on Facebook, the Ukrainian Kyiv Post published an image of a burning fighter jet, with a caption that read "the sixth and seventh shot down".
In reality, the picture was from 1993, when two Russian jets collided at an airshow in Gloucestershire, Great Britain. The pilots ejected and escaped unharmed. This wasn't the first time this image was spread online in a false context – it was also shared in 2017, when it was claimed to be a downed plane in Yemen.
Did Antony Blinken show a faked image at the UN?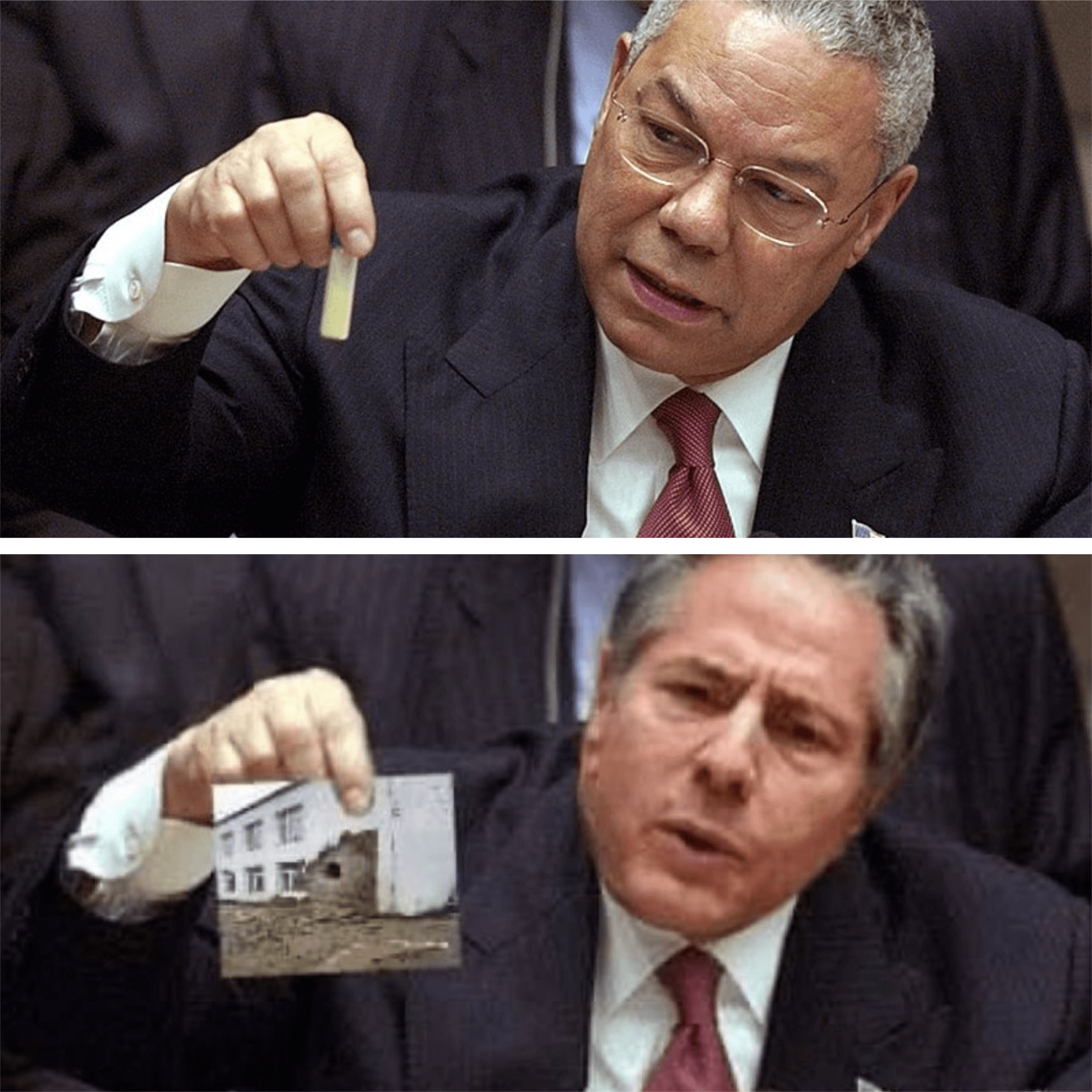 Since February 17, photos of a bombed kindergarten in the Luhansk Oblast  were circulating online. Russian seperatist forces were blamed for the attack. Shortly afterwards, a doctored photo appeared where an industrial excavator was added to the picture. This was meant to be proof that the attack never happened. This "faked" attack was then further manipulated, with a famous picture of Colin Powell giving his infamously false evidence about WMDs to the UN changed to show current US Secretary of State Antony Blinken, holding up a picture of the bombed kindergarten, as if to suggest that this "fake" was being used to justify US aggression. You can the full report here.
Missile attack, or gas explosion?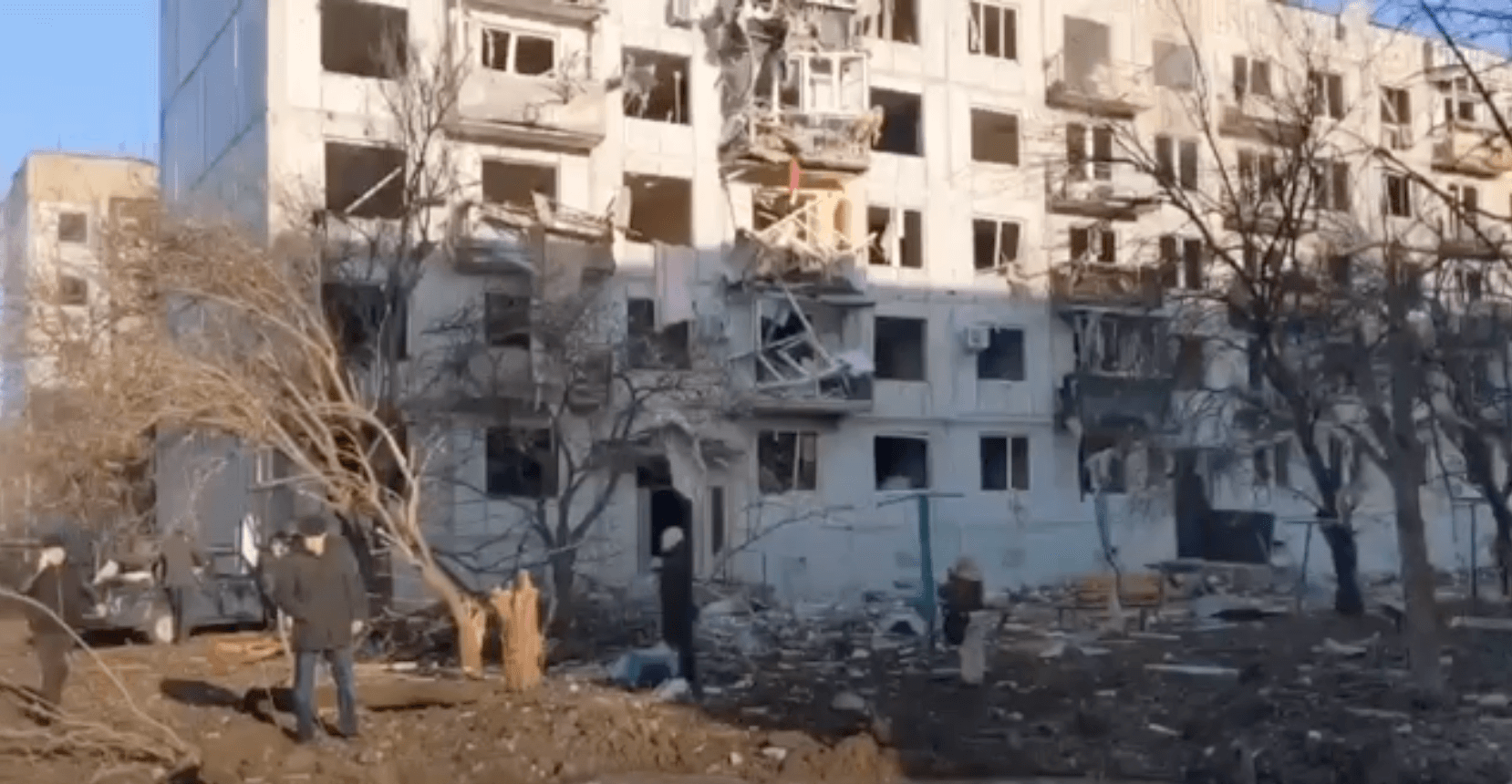 In another example of real information being claimed as fake online, an actual attack on a residential building in Ukraine was used by the Russian media as evidence of misinformation by the West. They claimed it showed nothing more than a gas explosion from 2018. This is not true. The picture is recent, and comes from the Ukrainian city of Chuhuiv.
You can find all our fact checks relating to the war in Ukraine here.